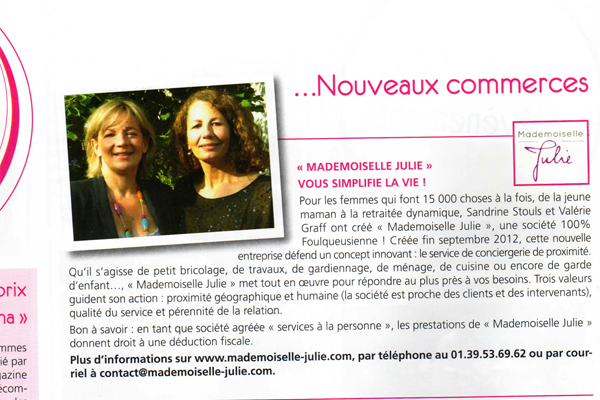 "MADEMOISELLE JULIE" makes your life easier!
For the multi-tasking woman, from the young mum to the active pensioner, Sandrine Stouls and Valérie Graff have set up "Mademoiselle Julie", a 100% Fourqueux-based business! Set up at the end of September 2012, this new business defends an innovative concept providing local domestic services. Whether you need a hand with DIY, chores, surveillance of your property, housework, cooking or child-minding …, "Mademoiselle Julie" makes every effort to find the ideal solution to your needs. Three values guide the business: geographic and human proximity (the business is close to its customers and to its workers), quality of service and sustainability of relationships.
Useful to know: as a registered business providing services to individuals, "Mademoiselle Julie's" services are tax deductible.
Published by the Townhall in Fourqueux.
More information: www.mademoiselle-julie.com, by phone on 01.39.53.69.62 or by e-mail contact@mademoiselle-julie.com.